---
---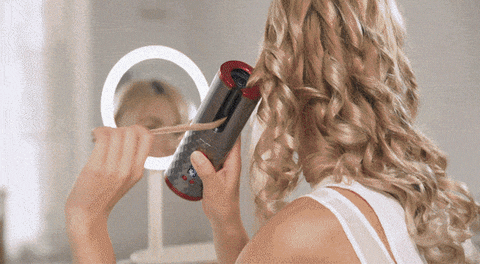 Having glamorous curls like a young Brook Shields, Julia Roberts, or Beyonce (AKA Sasha Fierce) is NOT easy. The difficulty makes "the look" rare. Yes, it's absolutely a showstopper… 
…But Curling Your Hair Into Perfectly Glossy
Ringlets That Stick Usually Takes A Lot Of Effort:
 -   Old-fashioned curling irons make it easy to burn your hand and your hair on accident. 
-   Let's face it: you don't want to spend hours upon hours getting perfectly curled hair, that's why you usually settle for other hairstyles (until now)
-   Most curlers come with a leash – the power plug confining you to one room for hours and making travel inconvenient.
-   Despite your best efforts, even the most advanced curling irons always leave your hair frizzy – and less glamorous than before. 
-   Worst of all, even if you do somehow manage to get the perfect curl, it never holds.
IMAGINE: BOUNCE, FLOUNCE, SHINE, AND CURL ALL IN 15 MINUTES
Whether the ideal look you are going for is classic beach waves or the full-on Marilyn Monroe -- It is the state-of-the-art in automatic curling technology that your favorite influencers swear by.
-   Curl locking ionic technology closes up your hair's cuticle, sealing in the curl all the way to the root. The result is the bouncy, sleek, shiny hair you've always wanted
-   Anti-tangle technology automatically stops if it senses any problems – additionally, the ceramic-coated design virtually eliminates snags
 -   Zero damage curling thanks to our cutting-edge ceramic-coated design. Evenly heats your hair cuticle and stops unintentional burning
 -   Rapid automatic curl means you can take your hair from "blah" to "amazing!" in only 15 minutes.
 -   Cordless convenience means you're never stuck in one room of your house. Curl on the couch, in the kitchen – wherever you want!
---